The usual collection of stuff which I've copied directly from analogue teletext.

Morley Finally Makes Legal Tackle
CRRRRUUUUNNNNCCCHHH, you Aussie twat
Great Britain rugby league prop Adrian Morley has recently finally made a legal tackle. The ex-Leeds and Sydney Roosters man made a tackle in the 26th minute of a Superleague match against Hull KR which the referee, after a quick nod from his touch judge, decided not to penalise. The Warrington Wolves (is that their nickname these days?) brute said that the reason he makes a lot of high tackles is because he does most of his tackling practice with his five year old son. He told me out side the Greggs in Huddersfield the day after the test match "I'm always playing in the garden with my son, Jacob, and he's only a little lad. He'll never grow up to be tough like me if I don't give him some 'treatment', so I usually give him a good bash early doors just to let him know I'm there." When quizzed whether he would be better practicing against people his own size Morley said: "No ta, my wife's a big unit. There's no way I'd get her down legally. I'd have to give her a swinging arm."
Morley then went into the Greggs and ordered two Steak Bakes, a can of orange Fanta and a custard slice. He then walked out of the shop and was put on report for a late tackle on a traffic warden.
Maniche Says "No" to Bristol City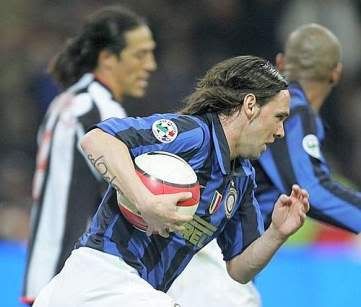 "It's my ball!" Maniche is the school bully to Camoranesi's school dweeb
Confusion arose yesterday when high flying Championship side Bristol City were linked with Portugese international midfielder Maniche. The ex-Benfica, Porto, Dinamo Moscow, Atetico Madrid and Chelsea star was thought to be the ideal man to take the West-Country club into the top echelon of English football. Mancihe - not his real name, he was named 'Maniche' after some Danish striker caled 'Manniche' or something similar who used to play for Benfica - denied all knowledge of an approach from Brizzle, he said: "Que? I think you have me confused, I would never go to Bristol City. I am enjoying my time here at Internazionale of Milan." When further pressed the goalcoring midfielder suggeted that I had maybe made up the story in a desperate effort to fill the pages of ESN "Are you sure you aren't lying? I know what British journalists are like."
As the day panned out and I tried to get more information on this potential exclusive it dawned on me that during a drunken conversation with my friend Jim the evening before he had mentioned how he'd made a bid for Maniche on Football Manager 2008. During an exchange of text messages Jim told me "dnt u remmber lst nite? we tlkd abt champ man," and went on to add several (free) text messages later (courtesy of his contract with Orange) that "i bid 4 manish wen i woz manger at city lol." There then followd an embarrassing climbdown from this correspondent as I apologised to Maniche and pleaded with his agent to not sue me. He agent responded with "I don't care, I've never even heard of your sports website."
My mate Jim has since failed in his bid to bring Maniche to Bristol and turned his attentions to Swedish playmaker Kim Kallstrom of Lyon. Remember, you read it here first.
Tour of Holland Branded a "Farce"
Worst trophy ever
The recent cycling tour of Holland has been branded a farce by angry cyclists. British entrant David Millar told this correspondent - in the queue to buy a puncture repair kit in Halfords - that the tour was "A farce. Possibly the stupidest idea ever," he added: "The King of the Mountains award really took the biscuit." Possible ETA sympathiser and many time Tour de France winner Miguel Indurain agreed that the tour had brought greater shame upon the sport than all the failed dope tests in the last ten years combined. Speaking on his mobile whilst simultaneously wearing a sombrero and taunting bulls in the middle of a bullring in Pamplona, he told me "I can't speak right now, a bull is about to gore my anus."
Tour organisers had not realised that there were no mountains, or even hills, of any significance in the notoriously low-lying country. Zany multi-millionaire tour chairman David Bewes of Jersey said "Who'd have thought that there were no mountains in one of the lowland countries? I could have swore that I once read an article on Dutch mountaineers." When Bewes was informed that that very article was in fact last year's April Fool joke article on ESN he seethed with anger and told me "You idiot! You've ruined my reputation as a sports promoter. You tosser. How was I to know that it was a joke and that these intrepid explorers didn't climb Mount Arnhem wearing nothing but national costume including wooden clogs?"
The wacky, tax dodging former potato picker Bewes has now turned his entrepreneurial skills to setting up a professional cricket competition in Mejico.
GAA: The Beginners Guide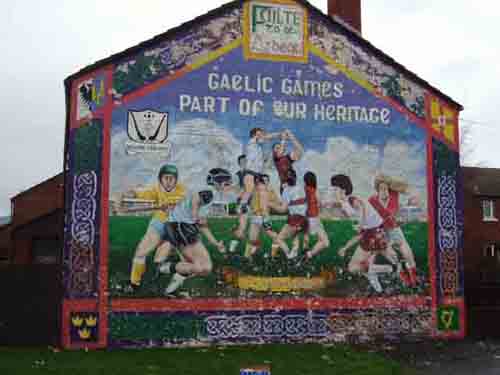 The Irish equivalent of the Bayeux Tapestry
Because I've been spending some time on the West Wales coast, I recently acquired access to Irish language television channel TG4. In between repeats of South Park and Fimbles broadcast in the Emerald Isles' indigenous language, I've come across some highlight packages of various sports which are popular in Ireland and nowhere else. So, I thought this would be a great opportunity to teach the readers of Exclusive Sports News the ins and outs of the several comical sports that the Irish play.

Gaelic Football
It's sort of a bit like Australian Rules Football but on a more oblong shaped pitch and they use a football instead of a rugby ball. You score points by kicking the ball either through the rugby posts (piss easy) or by kicking it in the football goal (should be easy, but isn't - I reckon I could do it). Also, everyone is allowed to handle the ball like a goalie. Big teams include the Dublin Dinosaurs, Droghedea Dinosaurs, Waterford Watermen and the Galway Galwaymen.
Hurling
I didn't pay much attention to this one. Hockey sticks, but flatter, are used to hit the ball about on the exact same field that they play Gaelic Football on. Not very imaginative. Current champions are the Limerick Leprechaun Bashers. Probably.
Camogie
As far as I could ascertain, this is just Hurling for women. Yes, that bad.
Knock, Knock Ginger
Not the childhood game of the same name that we have on this island where you'd knock on a door in your street and leg it. Here, a redheaded Irish gentleman knocks on the doors in towns that he'll never set foot in again and tries to sell you a sofa by saying "Would your Ma' like to buy a tree piece suite?". If your Dad's in he'll offer to tarmac your drive for £200 but insist on payment in advance so that he can go and buy tarmac from a fellow Irish hustler. Only to never return.
The key to winning this game is to pretend that there is no one home by muting the volume on your telly and not answering the door.